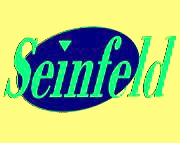 Seintrivia
Test Your Knowledge of The Funniest Show on Television
*Seinquiz* Coming Soon!
---
1. What is the Name of Kramer's "Company"
Cosmo Inc.
Kramerico Industries
Microsoft
H & H Bagels
2. On What Show in Japan did Jerry make an Appearance on?
The Superterrific Happy Hour
The Comedy Bonanza
Standup Comedy Starsearch
Grand Comedy Central
3. What is the Maestro's real name?
Joe Devola
Ben Peterman
Bob Cobb
Mickey
4. Who is Jerry's favorite superhero?
The Flash
The Human Torch
Captain America
Superman
5. Who is not someone Elaine has worked for?
Mr. Lippman
Dr. Van Nostrand
J. Peterman
Mr. Pitt
6. What did Kramer trade Newman for the helmet that saved him when Joe Devola kicked him in the head?
A bucket of Kenny's fried chicken
A radar detector
Jerry's skis
A fax machine
7. Why is George arrested in the parking garage?
Public Urination
Prostitution
Spitting on a car
Stealing an air conditioner
8. Who is Yev Kasem?
The Pakistani Restaurenteur
The Drunk on the Plane who owns the dog Farfel
The Soup Nazi
Jerry's Barber
---
Now For the Answers
If you have a trivia question don't hesitate to send it to me at jsein86@yahoo.com