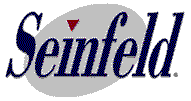 Seinfeld Schedule
Now Find out When Your Favorite Episodes Will Be On!
---
10/08/01 - Monday : The Heart Attack

While at a restaurant with Jerry and Elaine, George claims to be having a heart attack and is rushed to the hospital. Although convinced his life is over, George's doctor tells him that, while he didn't have a heart attack, he does need his tonsils removed. Meanwhile, Jerry panics when he cannot decipher a late-night note to himself, and Elaine becomes obsessed with a magazine article in the hospital waiting room. While preparing to have his tonsils taken out, George is convinced by Kramer to skip the surgery and see Tor, a holistic healer. Told to stay away from hot water, George is given an herbal tea to treat his tonsils, all of which increases Jerry's suspicions that Tor is a really a fake. Meanwhile, while dating a doctor she met at the hospital, Elaine is treated to a detailed lecture about the tongue. After the herbal tea treatment turns his face purple, George and his friends are rushed to the hospital by ambulance. However, the driver and the attendant get into a fight over some candy, resulting in an accident that injures both Jerry and Kramer. Finally, back in the hospital, George fears that his face will always be purple, while Jerry remembers his disappointing punch line and a nurse tells Elaine about the end of the magazine article.

10/09/01 - Tuesday : The Revenge

George gets fed up and quits his realty job and tells off his boss. Then, with Jerry and Elaine's help, George just goes back but the plan fails so he seeks revenge on his boss for not rehiring him. Meanwhile, Kramer helps Jerry seek revenge on a laundromat owner for taking money Jerry hid in his clothes bag and forgot to remove.

10/10/01 - Wednesday : The Deal

While alone together watching television, Jerry and Elaine reminisce about the days when they were a couple. After establishing a new set of ground rules designed to preserve their friendship, the two agree it is all right to start having sex with each other again. Told by Jerry about the deal they struck, George expresses skepticism that it will ever work. In a test of the new rules, Jerry tries not spending the night with Elaine but, after sensing some tension, he decides to stay after all. However, exercising her own option, Elaine demands that he leave. While discussing Elaine's birthday with George, Jerry worries that his gift may send the wrong message. After ruling out a host of choices, Jerry finally decides to give Elaine money for her birthday. Though upset by the impersonality of Jerry's gift, Elaine is overjoyed when Kramer gives her exactly what she wanted, a hand-crafted bench seat. While his present nearly causes them to break up for good, Jerry and Elaine decide to reconcile their differences and resume their new relationship.

10/11/01 - Thursday : The Note

While discussing an insensitive remark he made to his masseuse, Jerry mentions that Roy, his dentist, might be willing to write a doctor's note which would allow massages to be covered by health insurance. Sensing an opportunity to get something for nothing, Elaine and George go to see Jerry's physical therapist. However, after unsuccessfully trying to avoid seeing a male masseuse, George senses he may have responded sexually to the massage and begins to wonder if he is gay. After confiding to Jerry the fears about his own sexual preference, George is assured that his response to the massage was of no importance. Though finally getting Roy to sign the questionable notes, Jerry and his friends cause a mix up that results in the dentist being investigated for insurance fraud. Meanwhile, no one believes Kramer's claim that he saw baseball great Joe DiMaggio in the local donut shop. After apologizing to Roy for the trouble they caused, Jerry and George learn they need to get the physical therapist to go along with a story to keep him out of trouble. However, when the masseuse refuses to see them because of Jerry's earlier remark, Roy ends up on probation for six months. Finally, Kramer is redeemed when his friends also spot Joe DiMaggio in their neighborhood donut store, while George's obsession with his sexual preference continues to be a distraction.

10/12/01 - Friday : The Truth

Although he is being audited, Jerry is confident of prevailing with the help of Patrice, George's new girlfriend and a former IRS auditor. However, pressed to tell the truth about his feelings for her, George breaks up with Patrice after giving her all of Jerry's tax records. Meanwhile, Elaine is upset with Kramer's behavior while he is dating her roommate, Tina. When Jerry insists George retrieve the records, George goes to Patrice's apartment but discovers she has checked into a mental institution as a result of their breakup. After tracking her down, they find that she threw the papers out, leaving Jerry without any copies for his audit. Over Elaine's objections, Kramer surprises Tina with a new coffee table he made from a discarded car windshield. Needing to come up with records for his audit, Jerry is forced to call around town asking for receipts. Though given a chance to tell Kramer and Tina what she really thinks about their romance, Elaine cannot bring herself to tell them the truth. Finally, an accident with the table puts Tina in the hospital, while George reconsiders his decision about Patrice.